Here is the short video to accompany this message: https://youtu.be/BHPFRcYWYkI

Here are the readings for this Sunday October 4 and the one we're focusing on is in bold: Deuteronomy 8:7-18; Psalm 65; 2 Corinthians 9:6-15; Luke 17:11-19
Because of the Provincial Health order on Sept 25th, the Executive decided to postpone in person, indoor worship, and close the building to all user and church groups; staff will be in for specific tasks but mainly working from home
We are collecting fruit and granola bars for West Broadway Community Ministry. The cart will be outside to collect items Tuesday, Thursday and Sunday 9-11am.
Items to note:
Bible Study: Monday evenings 7-8pm on zoom
Holy Yoga: Saturdays at 10am and Mondays at 3pm on zoom
Youth Group: Sunday October 18th, 11-noon on zoom
Trinity Walkers: Come take a morning one hour walk with your friends from Trinity! Each Tuesday and Thursday at 9-10am, we'll choose a different walk in our area to explore. Both days are the same walk. Contact the office if you'd like to take part.
The children have been busy learning about God and how to be a follower of Jesus with the "at home" bags sent by the Christian Education Committee. Here is a picture of one of the activities and attached.
What do you need today?
Maryann writes:
think of something you are thankful for for each letter of the alphabet. When doing it with a small group each person says one thing for each letter or when doing this with a large group each person says something for only one letter following the alphabet sequence. This list can include people's names and or places. When doing this exercise there is no right or wrong answer and will be different each time it is done. At times I use this exercise when I have much on my mind…As I sit and reflect on what I have written many more things come to mind of what I am thankful for. I find life is so much better when I can find something to be thankful for.
What are you grateful for that corresponds to each letter of the alphabet?
Ken sends some great pictures of animals parenting their offspring; I'm including a few for our thoughts about thanksgiving. I am thankful for small mercies. Some people expect everything of the universe and are disappointed when anything is less than the best. I found that I begin at the other extreme, expecting nothing, and am always full of thanks for unexpected blessings.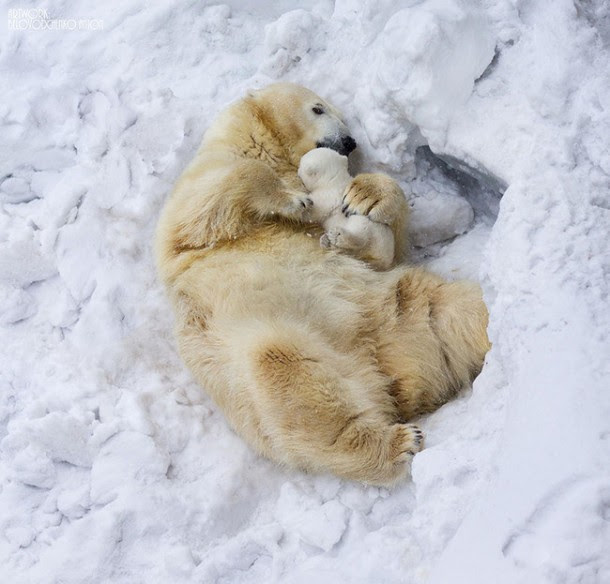 Scripture for the day: (Philippians 4:6-7) Don't fret or worry. Instead of worrying, pray. Let petitions and praises shape your worries into prayers, letting God know your concerns. Before you know it, a sense of God's wholeness, everything coming together for good, will come and settle you down. It's wonderful what happens when Christ displaces worry at the center of your life.
Prayer for the week:

May blessing, peace and the knowledge that we are not alone on this journey; may God be a part of our week as we wander through our challenging days and evenings, knowing the spirit of God is part of all our experiences! May we all remember God in a way that keeps us going and be strong and be kind, loving and compassionate.
Elizabeth